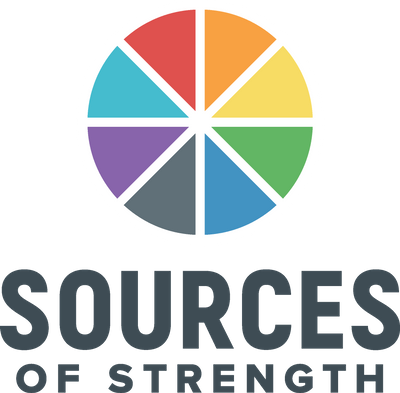 Sources of Strength is a national suicide prevention project being implemented in our community. The program's mission is to help prevent suicide by increasing and rewarding help-seeking behaviors and by promoting connections between peers, as well as connections with caring adults who are capable of helping.
In order to accomplish this, the Sources of Strength program cultivates the identification, development, and utilization of eight protective factors, or Strengths. Ultimately, these eight Strengths (Mental Health, Family Support, Positive Friends, Mentors, Healthy Activities, Generosity, Spirituality, and Physical Health) empower individuals and communities to develop their own resilience in order to promote health and wellness in themselves and others. We know that there is more than just one singular risk factor for suicide, and that's why we're working to decrease all these risk factors, not just one or two. Learn more at https://sourcesofstrength.org/
Best Practices for Connection
The goal of Sources of Strength is to provide a community of connection and support for youths who are at risk in order to positively impact their lives and prevent struggles with poor mental health, addiction, or substance abuse. Utilizing the power of peer social networks, Sources of Strength works to change unhealthy norms and culture that may negatively impact young individuals in Sheridan County. All three school districts in Sheridan County have an established Sources of Strength program to equip students to cope with the everyday effects of stress, anxiety, and more in order to live a healthier and happier life.
Becoming an Adult Advisor
Adult Advisors are made up of a diverse group of connected, caring, and positive local adults who's goal is to support, mentor, and assist peer leaders in spreading hope, help, and strength-based messages across their friendship networks. Please contact SCP if you're interested in becoming an Adult Advisor.
Becoming a Peer Leader
One of the many ways Sources of Strength works to help increase help-seeking behaviors in youth is through peer leadership. Peer Leaders work with other students and Adult Advisors to ensure engagement and guidance within the program. Youth-adult connectedness is a key component of helping to prevent suicide. By becoming a Peer Leader, you will have more opportunity to increase your school engagement, as well as help identify resources for those around you who may be struggling with mental health concerns.